The Brickyard on Main & The Union
Gay Marriage in Ohio Wedding Venues
Plan Your Gay Marriage in Ohio Wedding Venues. The 2 Best Ohio Wedding Venues Near Toledo for LGBT Marriages
If you are planning your LGBTQ or gay wedding in Ohio, you have chosen a wonderful destination. Ohio is home to a large selection of prime spots for your LGBTQ wedding and inclusive vendors that will help make your dream wedding everything you have hoped for.
The 2 Best Ohio Venues for Your Ohio LGBT Friendly Wedding
The two best Venues for your Ohio LGBT Friendly wedding are the Brickyard on Main and The Union.
The Brickyard on Main
The Brickyard on Main is one of the best Ohio wedding venues for gay marriages. We are located in historic downtown Marion, Ohio.
Our staff is super friendly, accommodating, and helpful in every way. We truly care about making your day the best it can be, and will do everything in our power to make that happen.
We have hosted countless LGBTQ weddings and know how to cater to your specific needs to help you create a beautiful and truly inclusive wedding.
At the Brickyard you will be treated with the utmost respect and addressed properly by your correct pronouns and genders.
We take pride in accommodating any couples seeking to celebrate their love by providing you with a safe and welcoming space.
Click here to contact us with any questions or to book your wedding.
If you are looking for a wedding venue that is beautiful, affordable, and inclusive then the Brickyard on Main is your best choice!
"If you've made it this far on your venue search, stop what you're doing and BOOK THE BRICKYARD. From the moment my wife and I stepped into the Brickyard, we knew this was the perfect space for our magical day."  – Allyson Mcgeorge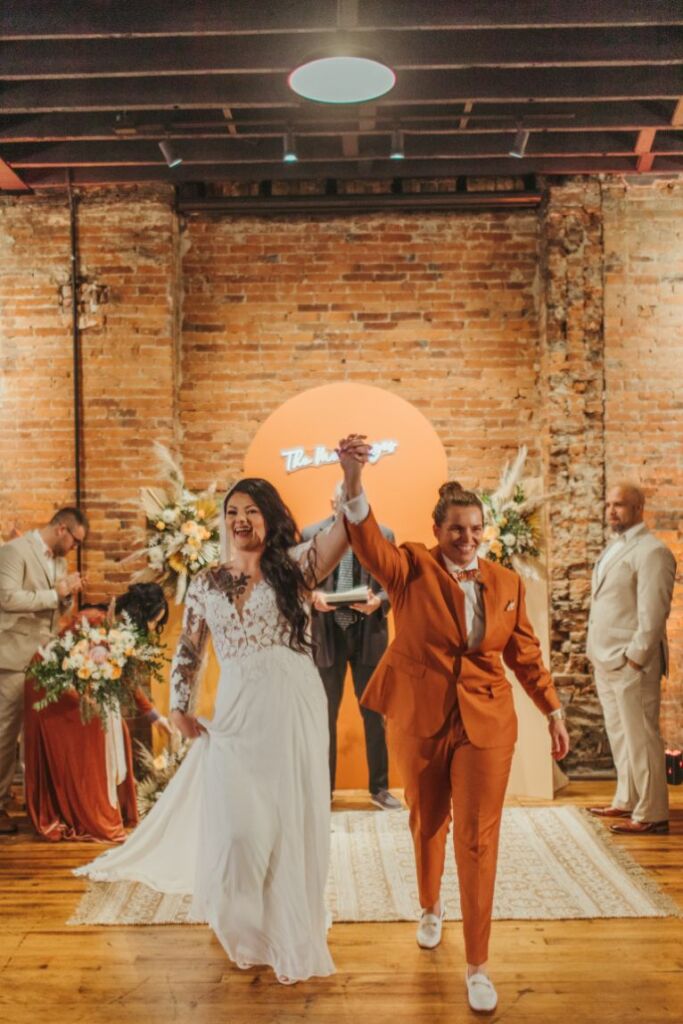 The Union
The Union is located across the street from the Brickyard. This venue has been beautifully renovated to feature a modern industrial aesthetic with original architectural details intact.
This venue is the perfect space for your intimate wedding of 50 guests or less.
For couples getting married at the Brickyard, The Union is a fantastic space for holding a bridal shower or rehearsal dinner with a nice discount.
Get more details about The Union event venue for weddings, bridal showers, or rehearsal dinners here.
"The Union was the perfect place for our wedding. Everyone commented how beautiful it was!" – Wanda Bowman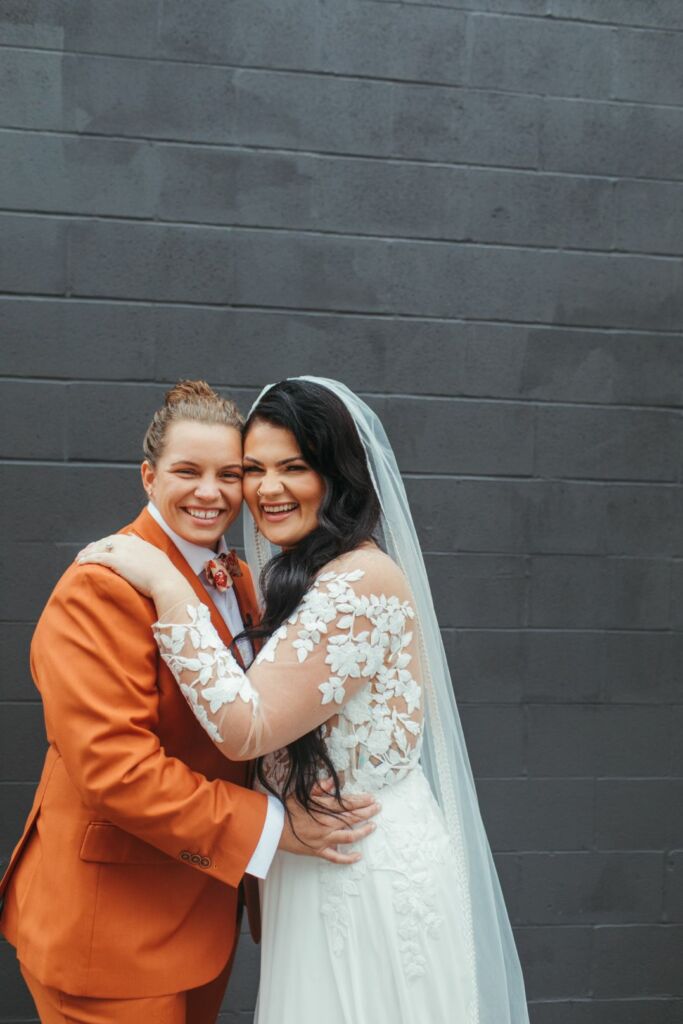 How much do these venues cost of charge for their services?
Couples love The Brickyard on Main's All-Inclusive Micro-Wedding Special! Designed specifically for you and up to 50 of your closest friends or family. You get the venue, dessert, linens, food, bar, wedding, photographer, flowers, and sound system all at an incredibly affordable price.
Check out our wedding price rates for The Brickyard on Main here.
Check out wedding and event rates for the Union here.
Don't forget, we offer discounts for couples who booked their wedding at The Brickyard and want to host a bridal shower or rehearsal dinner at The Union.
What are the best Ohio wedding venues for gay marriages?
The best Ohio wedding venues for gay marriages are those that are comfortable and welcoming to all guests. You'll want to look for venues that have a staff that is respectful, inclusive, and has experience working with the LGBTQ community so you can be sure they know how to make your wedding the massive success you desire and deserve.
Additionally, make sure that the venue is licensed and up-to-date with current state laws, in case there are any questions or concerns about hosting a gay marriage.
What are the features of these venues that make them ideal for gay marriages?
Both of these venues have a variety of features that make them perfect for gay weddings, including a beautiful chic industrial indoor ceremony area, outdoor ceremony courtyard, and space for an unforgettable reception all at an affordable price. These venues also have experienced staff who are knowledgeable about hosting your perfect LGBTQ wedding, so you can be sure your big day will be perfect.
Plus, both locations offer excellent photo opportunities thanks to their stunning architecture.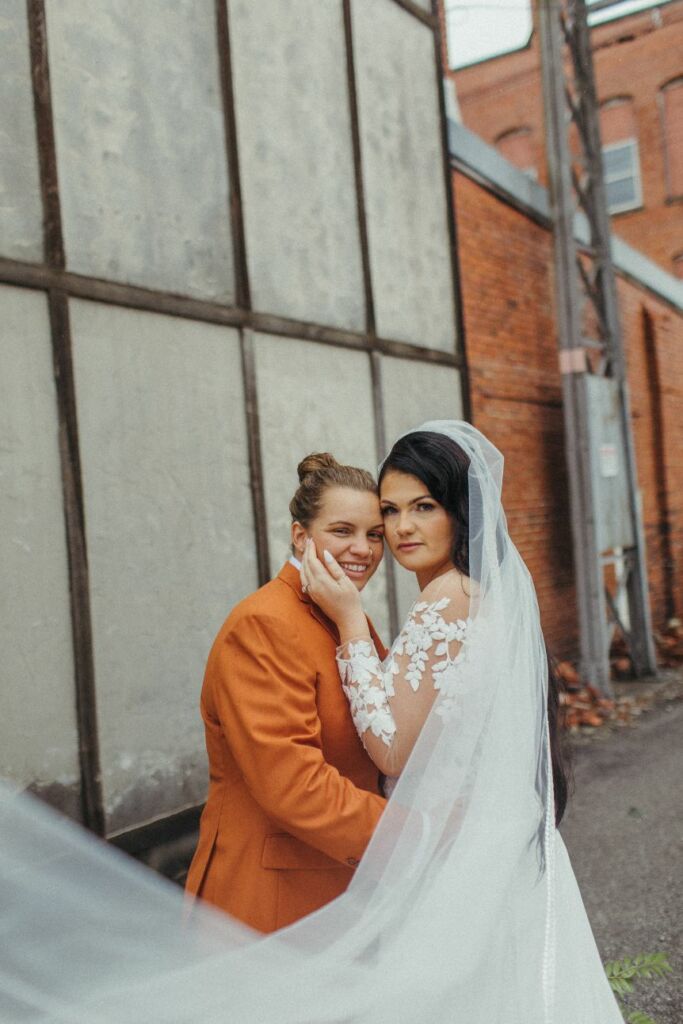 Why are these two venues the best choice for gay couples getting married in Ohio?
The two venues listed here are the best choice for gay couples in Ohio because they have a variety of options and features that will make your wedding day perfect.
Both venues offer beautiful settings, professional staff, and plenty of amenities to make your wedding day truly special.
They also have a wide range of services that can be tailored to meet the specific needs of same-sex weddings.
These two venues are great choices for any couple looking to get married in Ohio.
How can couples ensure that their gay marriage is celebrated at one of these venues?
Couples can ensure that their gay marriage is celebrated at one of these venues by making sure to contact the venue as early in their planning stages as they can to ask if there are dates available to host their wedding.
Our venues are very popular among the LGBTQ community and our schedule fills up quickly.
Fill out our contact here to inquire about our available dates.

What are the benefits of getting married at one of these venues?
These venues offer affordable wedding packages that are perfect for those who want to get married in style at an affordable price.
They also have conveniently close to Columbus, Delaware, Bucyrus, Upper Sandusky, Galion, Marysville, Kenton, Toledo, and Tiffin so that you can have the wedding of your dreams without the big city price tag close enough for it to be easy for all your family and friends to be able to attend.
We could go on and on about the benefits of these venues.
Click here to learn more about the all benefits you'll enjoy!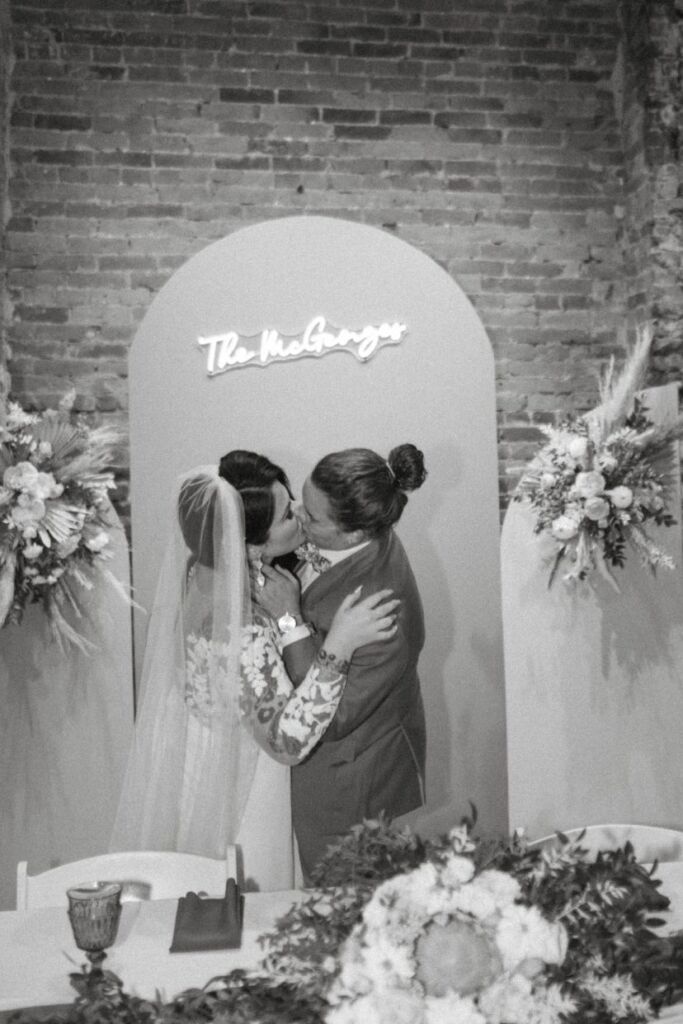 How can couples make sure that their guests will be comfortable at these venues?
To make sure that your guests will be comfortable at these venues, it is important to provide information about the wedding. You can include this information in your invitations or on your wedding website.
One way to make guests comfortable is by providing them with information about the event ahead of time. This can include a detailed itinerary, directions to the event, and information about any special activities that will be taking place. Additionally, couples can provide their guests with a list of recommended hotels or Airbnbs in the area.
Wedding planner:
Another way to make sure guests are comfortable is by hiring a wedding planner. A wedding planner can help take care of all the details leading up to and during your wedding so that you can focus on enjoying yourselves. A wedding planner can also help with things like making sure there are enough chairs for everyone, organizing transportation, and coordinating with vendors.
Caterer:
The caterer is another important person when it comes to making guests comfortable. A good caterer will make sure there is enough food and drink for everyone at the event. They will also work with the couple to accommodate any dietary restrictions that guests may have. Additionally, a good caterer will be able to provide recommendations for other vendors, such as florists or musicians.
Decorator:
The decorator is responsible for making the event space look beautiful and welcoming. They will work with the couple to choose the right colors, furniture, and decorations. The decorator will also make sure that the event space is set up in a way that is comfortable and convenient for guests.
All You Need To Know About Same-Sex Marriage In Ohio
In Ohio, same-sex marriages are legal. This means that same-sex couples can get married in the state just like any other couple. There are a few requirements that must be met in order for same-sex marriage to be recognized by the state. These requirements include providing valid identification documents from both parties, filing a marriage license application with the appropriate county clerk's office, and undergoing a civil ceremony presided over by an authorized official. The legality of same-sex marriages has been upheld by the courts throughout Ohio since 2004.
In order to get married in Ohio, you must first obtain a marriage license from the county clerk. The license is valid for 60 days and there is no waiting period.
Best time to get married:
The best time to get married in Ohio is during the summer months when the weather is warm and the days are long. However, if you are planning a destination wedding, you may want to consider getting married during the winter months, when Ohio's ski resorts are open.
Wedding venues:
There are a variety of beautiful wedding venues in Ohio, from rustic barns to elegant ballrooms. Some of our favorites include The Barn at Shale Creek Golf Club, Maison du Chocolat, and The Inn at Honey Run.
Is Ohio gay-friendly?
If you are interested to know if Is Ohio gay-friendly, the answer is yes. Ohio has been gay-friendly since 2004.
Benefits of the Ruling Laws
The ruling allows same-sex couples to marry in Ohio. This will benefit both the couples who are now able to marry and the state of Ohio, as it will receive more revenue from weddings. It also benefits gay rights as it extends equality to a group that has been discriminated against for years.
How it affects gay couples in Ohio:
This ruling will have a positive impact on gay couples in Ohio. They will now be able to get married and enjoy all of the benefits that come with being married. This includes things like tax breaks, health insurance coverage, and more.
What this means for the future:
This ruling is a major step forward for equality for all Americans, regardless of sexual orientation. It sets a precedent that will likely lead to more states recognizing same-sex marriages and extending equal rights to all couples.
Planning Your Same-Sex Wedding in Ohio
Ohio is home to many beautiful locations for weddings, no matter what your marital status may be. There are plenty of options for large or small ceremonies, as well as outdoor ceremonies if you prefer them. Additionally, many Ohio wedding venues offer packages that include all the services you need such as photography, floral design, and catering.
So whether you're looking to have an intimate ceremony surrounded by family or want a huge celebration with everyone invited, there's likely a perfect location for you in the Buckeye State!
When planning your same-sex wedding in Ohio, it is important to find a venue that is supportive of your relationship and willing to work with you to create the wedding of your dreams. There are many great venues in Ohio that would be perfect for a same-sex wedding, so take some time to research your options and find the one that best suits your needs.
Wedding Vendors:
Many great wedding vendors in Ohio support same-sex relationships and will be happy to help you plan your dream wedding. Take some time to research your options and find vendors who will be able to provide the services you need at a price you can afford.
Wedding Planning Tips:
When planning your same-sex wedding, there are a few things you should keep in mind in order to make sure everything goes smoothly. First, make sure you communicate with all of your vendors about what you want for your big day. Second, create a budget and stick to it as much as possible. Lastly, don't forget to enjoy yourselves!
3 Reasons for Gay Couples to Get Married in Ohio
There are many reasons for gay couples to get married in Ohio. Here are three of the most important ones:
1. Same-sex marriage is legal in Ohio.
2. The cost of getting married in Ohio is lower than in other states.
3. There are a variety of wedding venues that can accommodate any kind of wedding ceremony or reception.
Requirements for Gay Marriage in Ohio
Starting on November 6th, 2004 same-sex couples in Ohio can get married at one of the state's authorized wedding venues. Both partners must be over 18 years old and have valid IDs to participate in the ceremony. The fee for this service is $60 per couple, which covers both officiant fees and venue rental costs.
The legalization of gay marriage in Ohio marks a major victory for LGBT rights activists and their supporters. This change will make life much easier for same-sex couples who want to get married but don't have access to legal ceremonies elsewhere in the United States.
Age Requirements:
You must be at least 18 years old to get married in Ohio without parental consent. If you are 16 or 17 years old, you may get married with the consent of your parents or legal guardian.
Residency Requirements:
There is no residency requirement to get married in Ohio. You do not need to be a resident of the state in order to obtain a marriage license.
Waiting Period:
There is a three-day waiting period for all marriages in Ohio unless you complete pre-marital counseling or meet certain other exceptions. This means that you cannot get married any sooner than three days after obtaining your marriage license. Officiants:
In order to officiate a marriage in Ohio, you must be ordained by a recognized religious denomination or be licensed by the state as an officiant.
Gay-Friendly Wedding Venue near Columbus OH Done Right!
We have compiled a list of what to look for in the best gay wedding venues in Ohio that are done right! These venues will help make your wedding day perfect no matter how you feel about weddings in general.
Be sure to check for these features before making your decision, as they all deserve your attention.
Location:
The location of a gay-friendly wedding venue is important for many reasons. First, it can be difficult to find a venue that is truly gay-friendly. Second, the location of the venue can help to set the tone for the event. Third, the location can help to ensure that all guests feel comfortable and welcome.
Features:
When looking for a gay-friendly wedding venue, there are certain features that are important to consider. First, it is important to find a venue that is truly welcoming and inclusive of all guests. Second, the venue should have plenty of space for everyone to enjoy themselves. Third, the venue should offer amenities that will make everyone feel comfortable and at ease.
Benefits:
There are many benefits to having a gay-friendly wedding venue. First, it allows all couples to feel comfortable and welcomed on their special day. Second, it helps to create an inclusive and supportive environment for all guests. Third, it can help to make planning your wedding easier.
Honoring Equality through Love & Celebrating Love through Equality
We believe in "Equality through love" and this is reflected in our wedding venue. We believe that all love is equal and should be celebrated as such. We offer a variety of services to make sure your wedding day is everything you've ever dreamed of.
LGBTQ Friendly wedding vendors
There are many wedding vendors that are LGBTQ friendly. Some of these vendors include:
Equality Weddings: Equality Weddings is a website that helps couples find LGBTQ friendly wedding vendors.
Look for a venue that gives you a piece of the action with no objections, detailed information, and a high level of service in any case!
The LGBT community is a group that needs to be recognized and celebrated. You don't need to waste your time fighting to have your wedding at a venue that will give you a hard time or objections. If you are having any trouble, please consider the Brickyard on Main or The Union. We welcome you to our family with open arms.
You can contact us here to learn more.
If you're planning a gay marriage in Ohio, check out these 2 fabulous wedding venues near Toledo for LGBT.
When planning your dream wedding, it can be hard to know where to start. That's why we've put together this guide to the best places to get married in Ohio—including two fantastic venues that are perfect for LGBTQ weddings! Both The Brickyard on Main and The Union offers beautiful settings, excellent service, and plenty of options for customization. So whether you're looking for a traditional ceremony or something extra special, these two venues are worth checking out.
What are the two best wedding venues for Toledo LGBT weddings?
The two best wedding venues for Toledo LGBT weddings are, without a doubt, The Brickyard on Main and The Union.
Click here to contact us for more details.
You deserve an event space option that will respect your Rights given by the state court that is free from discrimination for your wedding celebrations!
Get the respect you deserve on your big day. Your wedding can be a huge endeavor and the last thing you need is a wedding venue that is going to give you trouble, be disrespectful, or in extreme horror stories we have heard about in the news, discriminate against you or any of your guests.
Our business will support what your heart desires and give you options that favor your views and decision for the type of dress to spot for your head table, all without a big city price tag!
If you want a stress-free wedding at a venue that has your back and supports you, you can't go wrong with the Brickyard on Main or The Union.
Get in touch with our loving staff to find out just how supportive we will be for you and your guests.
Your Love Story is Most Important!
We wish you all the best on your special day and we promise to do everything in our power to help you create the wedding of your dreams!