The Brickyard on Main & The Union
Marion Ohio Wedding Venues
Marion Ohio Wedding Venues – The Best Affordable Wedding Venue Near Marion Ohio
There are many reasons to consider getting married in Marion, Ohio. The city is home to a variety of wedding venues that can accommodate any budget and style. From historic mansions to rustic barns, there is a venue for every couple. Marion also offers a variety of elopement packages for couples looking for a more intimate ceremony.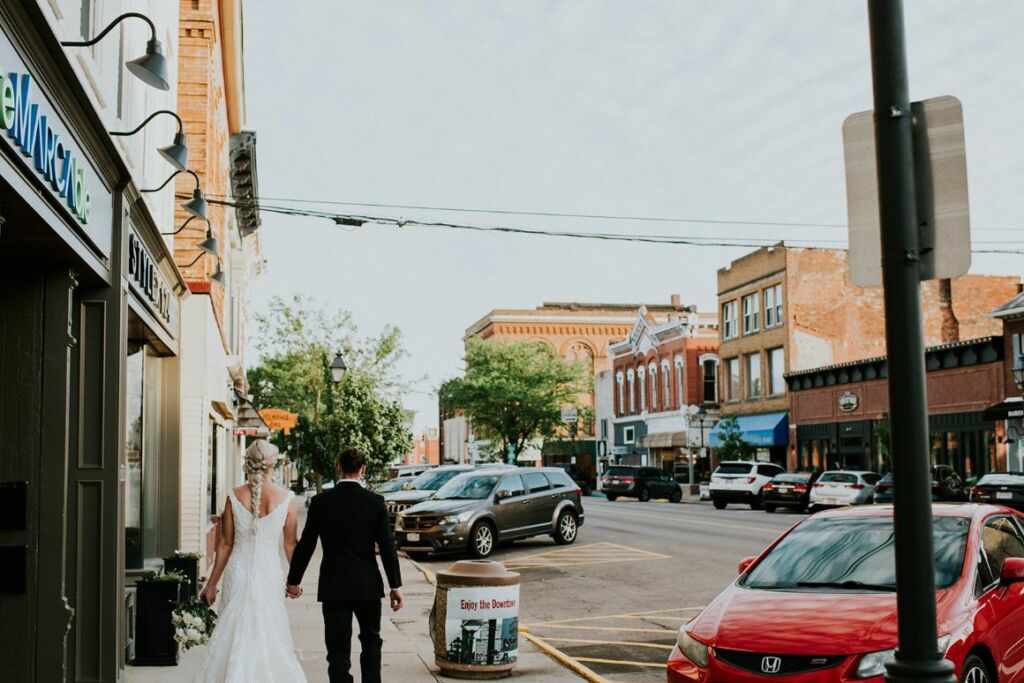 Places To Have Your Wedding in the Town of Marion, OH
The 3 best wedding venues in Marion, Ohio are the following:
The Brickyard on Main – Chic Industrial Urban Style Without a Big City Price Tag
The Brickyard on Main is a new urban venue in Central Ohio that combines concierge service with historic elegance. The venue is completely remodeled and transformed specifically for weddings. The Brickyard on Main offers a unique and unforgettable experience for couples looking for the perfect wedding day. It is an ideal wedding venue because it is close to Columbus, OH. You will love the chic industrial vibe with historic architecture dating back to the 1830s. The venue manager has experience working with hundreds of weddings and will make sure your day is perfect.
Check out our gallery.
Want to see photos from The Brickyard on Main?
Check out our gallery page on our website.
Learn more about our packages and rates.
Head to our pricing page to learn about all the value you get when choosing Brickyard on Main.
Check out our pricing page here.
What about hotels and shuttles for my guests?
We have a list of hotels and shuttles that we trust and recommend to give you and your guests the best possible experience!
Have more questions?
View our frequently asked questions.
Like what you see?
Get in touch with us to schedule a tour.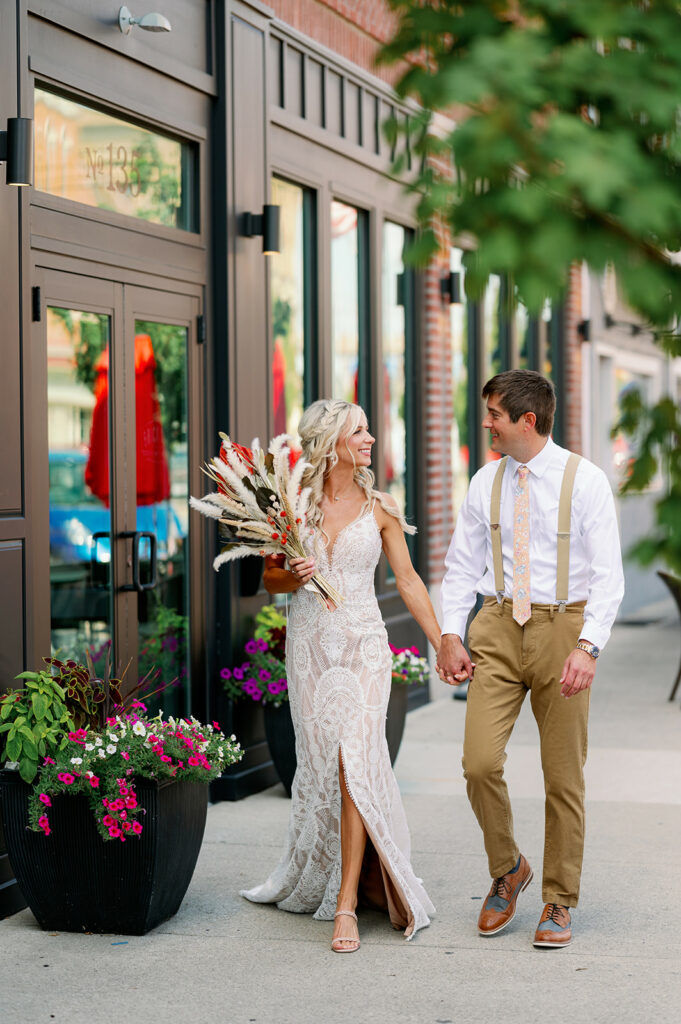 The Union
The Union is a great space for couples looking to host a wedding, bridal shower, or rehearsal dinner. The Union offers discounts for Brickyard couples hosting events there. The venue is located in the heart of Marion, OH, and provides a beautiful setting for your event.
Coming Soon Urban 501!
Urban 501 is a great place to have your wedding because it is a luxury wedding and event venue located in Downtown Marion, Ohio. The space will have a full bar and lounge, two suites for getting ready, a prep kitchen, and an amazing entrance. The space will have elevator hotel vibes rich with history.
Things to Consider When Choosing Marion Ohio Wedding Venues
When choosing a wedding venue, always keep your budget in mind. Fees for wedding venues can vary based on the type of facility, vendor, and other services offered. The Brickyard and The Union offer transparent pricing so you don't have to worry about the being a big surprise once you get the bill.
Consider your guests' capabilities and how far away the wedding venue is from the reception location. Consider the costs of parking if the wedding location is located in a suburban area. Venues need to be prepared for a certain number of guests. Rest assured, The Brickyard has plenty of parking for all of your guests.
It is also important to check the weather before selecting an outdoor wedding venue. Thankfully you have the option for either an indoor or outdoor wedding when you have your wedding at the Brickyard.
Alcohol laws and procedures need to be considered. Additional requirements may apply to the location you are considering. Know the limitations of your chosen venue.
The Brickyard offers a fully stocked bar and a relaxing lounge area. We have a draft system with 4 taps and reach-in coolers to keep the drinks nice and cold all night long!
We can also accommodate open bars, with a flat cost per head, and cash bars with soda, beer, wine, and mixed drinks.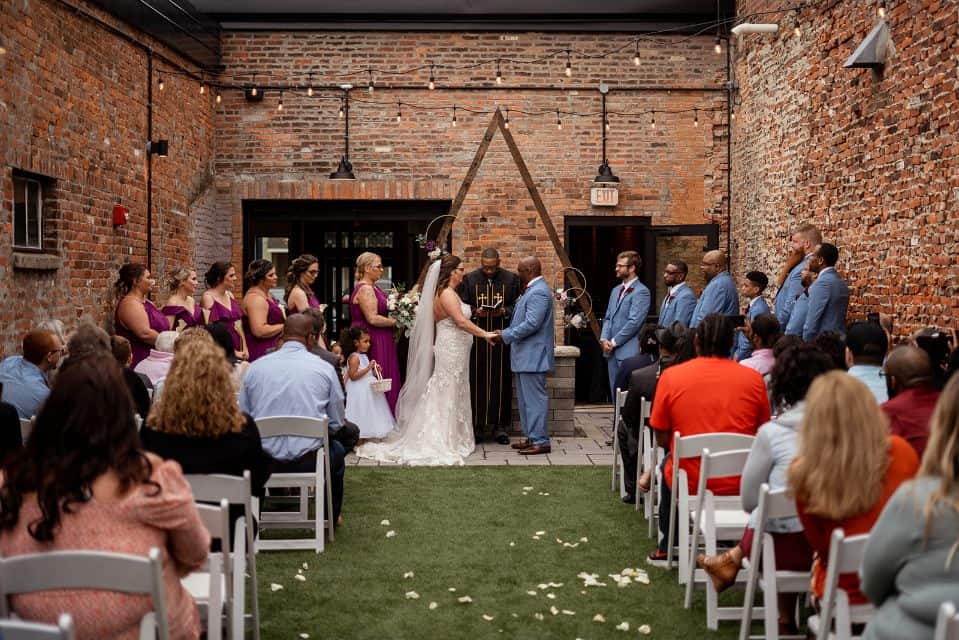 How to choose the right venue for your wedding
Choosing a wedding venue can feel like a daunting task, but it doesn't have to be. Here are some key pointers to help you find the best venue for your wedding.
Start Your Venue Search Early
When planning a wedding, it is important to start your venue search early. This will allow you to get the best deals and find the perfect location for your special day. By identifying your wedding style, you can focus your search on the right type of venue.
For example, if you want a rustic wedding, you would want to look for a venue that has an outdoor area and is decorated with country-style furnishings.
If you are having a formal wedding, you would want to look for a venue that is elegant and has plenty of space for your guests. Whatever your style, it is important to find a venue that meets your needs and budget.
Location, Location, Location!
When planning a wedding, one of the most important decisions you will make is choosing the right location. The venue can have a significant impact on every aspect of your big day, from the overall aesthetic to the number of guests you can accommodate.
With so many factors to consider, it can be overwhelming to choose the perfect location. However, by doing your research and considering all your options, you can find a venue that will make your wedding unforgettable.
Enlist The Help of a Wedding Planner
A wedding planner is a professional who helps couples with the planning and organization of their wedding. A planner can help with many different aspects of the wedding, such as choosing the right venue, selecting vendors, and creating a timeline.
Consider The Guest Count
When planning a wedding, it is important to choose a venue that can comfortably accommodate all of your guests. The size of the venue is one of the most important factors to consider when making your decision.
Understand The "Big Picture" Budget
It is important to understand all of the fees that can be associated with a wedding venue before booking. Many venues will give you an estimate of what your total budget will be. There are affordable and all-inclusive wedding venues available in many locations across the United States.
Ask your wedding venue questions to get an idea of what is included in your wedding budget. When planning a wedding, it is important to consider both the financial and logistical aspects.
The cost of travel, food, decorations, and more should all be taken into account when planning a budget for a wedding. Wedding budgets can vary greatly depending on the location and type of wedding being planned.
Determine Your Wedding Style
When planning your wedding, it is important to first determine your style. This will help you choose a venue that best fits your overall vision. There are many different types of wedding venues, so doing some research ahead of time can be very helpful.
Prioritize Your Must-Haves
1. Make a list of your top 3 venue must-haves.
2. Research and find 3 venues that fit your must-have criteria.
3. Compare the venues side-by-side and decide which is the best fit for your wedding.
Mind The Restrictions
When you are looking for a wedding venue, it is important to keep in mind any restrictions that may be in place. Some venues may only be available to certain religious groups, or they may have strict rules about who can get married there.
If you are looking for a venue that is open to all couples, regardless of religious beliefs or relationship status, then you should look no further than the Brickyard on Main or The Union. We are LGBT-friendly and inclusive of all couples wishing to celebrate their love.
Weigh The Work Involved
When choosing a venue for your wedding, you'll need to weigh the work involved in making it work well for your event. Venues like theatres and concert halls offer spaces that are perfect for large gatherings, but you'll need to be aware of the venue's current bookings and layout.
Keep an open mind when it comes to the space you choose, as you may need to adjust your original plans in order to make the most of the venue. Consider the decorations and equipment you'll need in order to make the space look beautiful and accommodate all of your guests. With a little bit of effort, you can find the perfect venue for your dream wedding!
Trust Your Instincts
When you're in the process of choosing a wedding venue, it's important to trust your gut. Make sure that you're getting everything that you're promised, and that the contract is clear. Choose a venue with professionals who are excited about your big day, and make sure that everything is in place before you agree to anything. Trusting your gut will ensure that your wedding day is everything you dreamed it would be.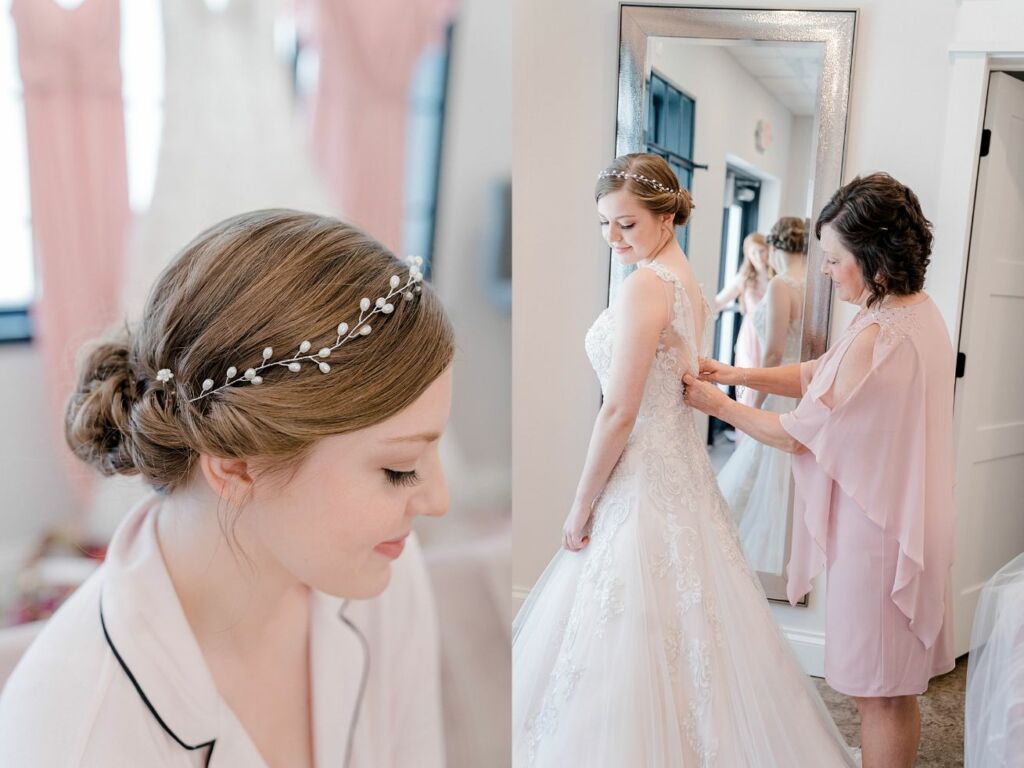 Types of Wedding Vendors
Wedding vendors can also play a huge part in creating a successful wedding. There are many different types of wedding vendors, and choosing the right ones can be a bit overwhelming. Here's some information on some of the most common types:
Photographer
When choosing a photographer for your wedding, it's important to find someone with plenty of experience and creative skills.
Venue
1. When choosing a wedding venue, it is important to consider the size of the venue and the number of guests you will be inviting. The venue should also be able to accommodate your budget.
2. It is also important to consider the location of the venue. The venue should be easily accessible for your guests and should be located in a safe area.
3. You should also consider the amenities that are available at the venue. The venue should have all the amenities you need to make your wedding a success.
4. Finally, you should speak with other couples who have used the venue before making your decision. This will help you get an idea of what to expect from the venue and whether or not it is right for you.
Wedding planner
A wedding planner helps with all aspects of a wedding, from the initial planning stages to the big day itself. They can help with things like selecting vendors, booking venues, creating and managing budgets, and more. Having a wedding planner can take a lot of the stress out of planning a wedding, and they can also help to ensure that everything goes smoothly on the day of the event.
Hair and makeup pros
When hiring hair and makeup professionals for your wedding, it is important to look for professionals with a lot of experience. Make sure the professionals you hire are licensed and insured. In addition, check to see that the professionals you hire have a good reputation in your area.
Attire
Couples usually buy new wedding clothes for their big day. It's a good idea to research dress salons and tuxedo shops before shopping so you can get the best service possible.
Cake baker
When choosing a cake baker for your wedding, it is important to ask about their baking experience and what types of cakes they are most experienced with. You should also look for a baker who offers samples of their work. In addition, ask about the baker's warranty and return policy.
Florist
A wedding florist is an essential vendor for couples who want to bring their wedding theme and color scheme to life. According to a survey, 74% of couples hired a florist for their wedding.
When choosing a florist, it is important to find one that you trust and who has a good understanding of your theme and color scheme. It is also helpful to ask for recommendations from friends or family. Be prepared to visit several different florists before making your final decision.
Wedding DJ and Entertainment
Wedding Dj and entertainment is a vendor that can make all the difference at your big celebration. They will play a vital role on your big day and they actually do more than just play music to fill the dance floor. A professional wedding DJ has many jobs to do, some of which you'll see, and others that are less involved.
It is worth taking the time during your wedding-planning process to hire a well-reviewed professional and you usually get what you pay for. That means, creating a Spotify playlist, plugging your iPhone into some speakers, and calling it a day really won't exactly cut it.
Videographer
A wedding videographer can help you relive your wedding day over and over by capturing pictures, movement, and sound to create a film of your wedding day. Wedding videographers allow you to experience your wedding day in a way that cannot be replicated by photographs or video recordings alone.
When choosing a videographer, be sure to look for someone who has a good mix of artistic and technical skills. Be sure to choose someone who has experience filming events of all sizes. Look for a videographer who is easy to work with and can capture your unique personality and style.
Stationer
A stationer provides a number of services for weddings. These include supplying tables and chairs, providing invitations, and printing programs. They can also help with the timely delivery of your invitations and other stationery items. In addition, they may provide other services such as floral arrangements and cake cutting.
Caterer
When choosing a caterer, it's important to consider their food quality, service, and pricing. Make sure the caterer you choose is experienced and offers a wide range of services. Ask about the caterer's catering rates and how much flexibility they offer.
Officiant
An officiant is a person who can legally marry you and your partner. You and your partner will need to decide whether you're having a religious or secular ceremony, and find an officiant who can perform a ceremony that feels personal and appropriate for your special day.
Jeweler
When choosing a jeweler for your wedding, you will want to consider a few factors. First, you will want to make sure that the jeweler has a good reputation. Second, you will want to choose a jeweler with a wide selection of wedding-related jewelry. Third, you will want to ask about the jeweler's wedding planning services. fourth, You'll also want to make sure the jeweler can help you find rings that reflect your personal style and that are compatible with your future spouse's style.
Favors vendor
A favors vendor is a company that provides services related to wedding favors and gifts. This can include anything from catering to floral arrangements. Favors vendors help couples organize and carry out special events, such as birthday parties or anniversary celebrations.
Rentals Company
A rental company provides items such as tables, chairs, dishes, and more for your wedding. For an outdoor wedding, add a tent rental company to the list of vendors.
Transportation Company
When choosing a transportation company for your wedding, it is important to look for a company that specializes in weddings. This will ensure that you receive top-notch service and that everything is taken care of for you.
Lighting designer
A lighting designer is responsible for creating and configuring the lighting in performance or theatrical setting. This may involve working with sound and stage designers to create a cohesive and effective performance experience. Lighting can have a big impact on the overall look and feel of a wedding, for example by making flowers look more beautiful or adding an extra touch of elegance. Therefore, a skilled lighting designer can be essential in ensuring that a wedding is captured beautifully in photographs.
Your Wedding is Our Top Priority
We will be there every step of the way to help you create the dream wedding you have always wanted.
Your wedding day should be one of the most memorable and enjoyable days of your life, and we are dedicated to helpi you make it special.
We wish you all the luck in finding your perfect wedding venue! Don't hesitate to reach out to us with any questions at [email protected].