12 Best Wedding Venues Near Mansfield, Ohio
Top Unique and Affordable Places for Your Perfect Wedding
The Best Wedding Venues Near Ashland/Mansfield, Ohio
We've got the scoop on 12 totally amazing, affordable, and delightfully unique places where you can say "I do" in style. Forget the average, folks; we've handpicked these wedding venues near Mansfield Ohio to ensure your big day is nothing short of magical. Picture this: a chic urban wedding without the big city price tag, a historic yet luxurious passenger train romance, scenic golf course extravaganzas, and rustic-style cabin weddings – with so many great choices you're sure to find one just your style!
1. The Newest Luxury Venue Near Marion OH: Urban501
Urban501, the chic luxury wedding venue in Downtown Marion, Ohio, is the perfect choice for couples seeking an unforgettable wedding experience. With a maximum capacity of 150 guests, this historic venue, formerly Downtown Marion's Interurban Station, exudes charm and elegance.
The space is adorned with brick walls, dark wood furnishings, and ample natural light, creating a charming and inviting atmosphere.
Urban501 offers a range of stunning event spaces on the first and second floors, including a captivating outdoor courtyard, where couples can exchange vows in a picturesque setting.
At Urban501, couples can create memories to last a lifetime in a historical and elegant setting that seamlessly blends luxury and charm. Don't miss the opportunity to schedule a tour and explore this exquisite space that promises to make your wedding day truly extraordinary.
Learn more about our brand-new luxury wedding venue in Marion Ohio here.
Address: 322 W Center St, Marion, OH 43302
Phone: (740) 202-9496
Website: www.urban501.com
Rating: 5.0 (based on 5 Google reviews)
Reviews:
Wedding Wire: 5/5 (4 reviews)
Facebook: 5/5 (2 votes)
The Knot: 5/5 (4 reviews)
Google Reviews:
Britt Rhodes: "I knew as soon as we stepped foot in the main ballroom that this was the place."
Ashley Harrison: "I'm having my 40th birthday party there, and I can't wait!"
Jonah Troxel: "Urban 501 was the perfect spot to gather with close friends and family."
Don't miss the chance to explore this hidden gem and create cherished memories on your big day. Contact Urban501 at (740) 202-9496 or visit their website www.urban501.com for more information and to book a tour of their beautiful event space.
Urban501 is experiencing high demand
Be the first couple to tie the knot at this stunning new venue – Claim your first choice of wedding dates while there is still availability.
2. The Brickyard on Main
The Brickyard on Main is an excellent unique, yet affordable wedding venue to have your wedding near Ashland or Mansfield, Ohio.
The Brickyard on Main is the newest urban venue in Central Ohio.
It provides you with a beautiful backdrop for your greatest memories and endless dynamic photo opportunities.
Our Venue is tastefully remodeled and designed specifically with your wedding in mind.
Imagine an urban industrial vibe with timeless historic architecture dating back to the 1830s! Limestone and brick walls, exposed beam ceilings, natural light, hardwood and concrete floors, and beautiful chandeliers in the main ballroom that opens up through a glass garage door into a private, open-air courtyard with a beautiful arrangement of pavers, turf, and a fire feature to really create a romantic atmosphere.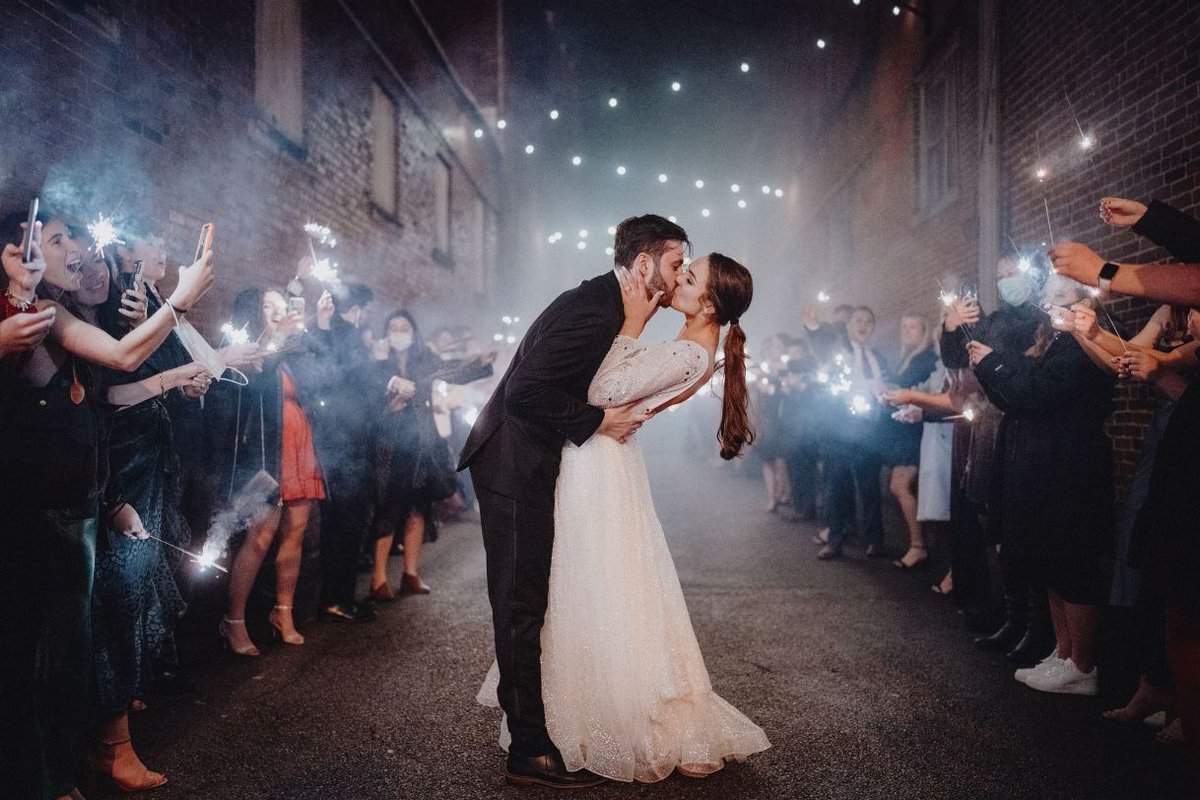 You will get all the modern conveniences including a private bridal lounge with a separate restroom, groom's quarters, and catering prep kitchen (saving you money with your choice of caterer).
The location is an easy drive just 49 minutes from Mansfield, Ohio, and one hour from Ashland, Ohio.
There are plenty of lodging options nearby with shuttle services available so you can party and enjoy our classy, yet, surprisingly affordable full-service bar services with customized packages!
Our experienced Venue Manager has worked with hundreds of brides to provide expertise and experience to guarantee that your big day is just as you have always dreamed of.
Get inspiration from our gallery.
Want to see photos from The Brickyard on Main?
Check out our gallery page on our website.
Want to learn more about our packages and rates?
Head over to our pricing page to learn about all the value you get when you choose Brickyard on Main.
Check out our pricing page here.
Location
The Brickyard on Main is located at 135 South Main st in Marion, Ohio.
An easy drive from Mansfield, Ohio with lodging and shuttle options nearby. We are a fantastic option for your wedding if you want a chic urban wedding without the big city price tag.
Address: 135 S Main St, Marion, OH 43302
Phone: (740) 251-2559
Website:  brickyardonmain.com/
Ratings:
The Knot: 5/5 (41 reviews)
Wedding Wire: 5/5 (7 reviews)
4.9 (based on 114 Google reviews)
3. The Old Franklin Church
The Old Franklin Church near Ashland/Mansfield, Ohio, is a great wedding venue due to its stunning architecture, beautiful stained glass windows, lighted dome, and convenient location.
Couples can exchange their vows in the chapel with up to 125 guests, and enjoy a spacious reception area with a modern kitchen and cozy lounge area.
The family-owned event space also offers private get-ready rooms and a honeymoon suite with a three-day weekend package.
With its easy access to I-71, the church is an ideal location for out-of-town guests and couples can even host a day-after brunch before saying goodbye to their loved ones.
The Old Franklin Church provides a tranquil and romantic setting for couples to celebrate their love.
4. Deer Ridge Golf Club
Deer Ridge Golf Club is a great wedding venue near Ashland/Mansfield, Ohio for couples who are looking for a beautiful, natural setting. The clubhouse resembles a lodge from the outside, with its wooden structure and green roofs, plus a large stone chimney that rises over the top of the building.
The banquet hall offers plenty of seating for up to 240 guests and features columns of natural wood and windows overlooking the property. The loft space seats up to 35 guests and has a softer ambiance with glowing light reflecting off the surrounding wood. The back room, which welcomes up to 40 guests, has high ceilings, wooden walls and large windows.
Couples can also host outdoor ceremonies on the course, taking advantage of the surrounding greenery and lush vegetation, or even set up receptions under picturesque white tents. Additionally, Deer Ridge provides couples with bridal suites and accommodations they can use on their wedding day.
All of these features, plus its convenient 25-minute drive from the Mohican-Memorial State Forest and a 90-minute drive from the Cleveland Hopkins International Airport, make Deer Ridge an ideal wedding venue near Ashland/Mansfield, Ohio.
5. Kingwood Center Gardens
Kingwood Center Gardens is a great wedding venue near Ashland/Mansfield, Ohio for couples looking for an unforgettable experience for their special day. Located at 50 N Trimble Road, Mansfield, Ohio 44906, this exquisite and historic garden estate offers a stunning natural setting for a dream wedding.
The 47-acre grounds boast two exceptional outdoor ceremony venues: the Allee and the Gazebo. The Allee is a long, grassy area framed by lush flower beds and overflowing hanging baskets, providing an unforgettable walk for the bride and groom.
The Gazebo is a secluded haven surrounded by beautiful flowering vines, billowing flowers, and foliage, with a rill, narrow water feature, running down the center. Guests can be seated either in the grass or on the Forecourt in front of Kingwood Hall, and enjoy the lush greens and the stunning brick architecture of the estate. With its spectacular settings, Kingwood Center Gardens is the perfect place to have a wedding near Ashland/Mansfield, Ohio.
6. Waters Edge Event Center
Waters Edge Event Center offers a variety of services for couples celebrating their special day. The venue boasts an outdoor setting overlooking a glistening lake, providing a picturesque backdrop for exchanging vows.
The venue also offers seating for up to 220 guests in the combination of the Barside Room, Fireside Room, and Lakeside Room, and for up to 150 guests in the intimate Lakeside Room.
It has two onsite wedding suites, complete with private bathrooms, mirrors, and private balconies. Finally, the dedicated event staff will work with couples to personalize the space to their liking and provide bar services upon request.
7. The Meadowood
The Meadowood is a popular wedding venue near Ashland/Mansfield, Ohio because it provides a beautiful and intimate setting to say 'I do.'
The venue is nestled on over 50 acres of picturesque scenery, with a stunning one-of-a-kind barn that has been remodeled into a stunning venue. Couples have the use of tables and chairs, along with event setup assistance, and various lighting options are available to create a romantic ambiance. The venue also offers an outdoor fireplace and pond to create a romantic setting.
The Cedar House provides a weekend wedding destination, giving couples and their guests the perfect place to stay and enjoy the festivities.
The Meadowood also allows outside vendors, including caterers, and provides a bar for special events. Couples and their guests are sure to have a beautiful, personalized experience at The Meadowood.
8. Angelwoods Hideaway B & B
Angelwoods Hideaway B & B is an ideal romantic wedding venue, offering a cozy and intimate atmosphere for couples wishing to tie the knot. Located in Lucas, Ohio, on 1983 Pleasant Valley Rd The B & B boasts a picturesque setting providing a beautiful backdrop for your special day.
The property also features a variety of amenities, such as a fully-equipped kitchen, private bedrooms, and a sunroom that overlooks the surrounding area. In addition, the B&B offers event planning services to ensure that every detail of your special day is perfect.
Furthermore, Angelwoods Hideaway B & B has been in business for 25 years, so you can be assured that their experienced staff will provide the best service possible. With its charming atmosphere, excellent amenities, and experienced staff, Angelwoods Hideaway B & B is sure to make your wedding day a memorable one.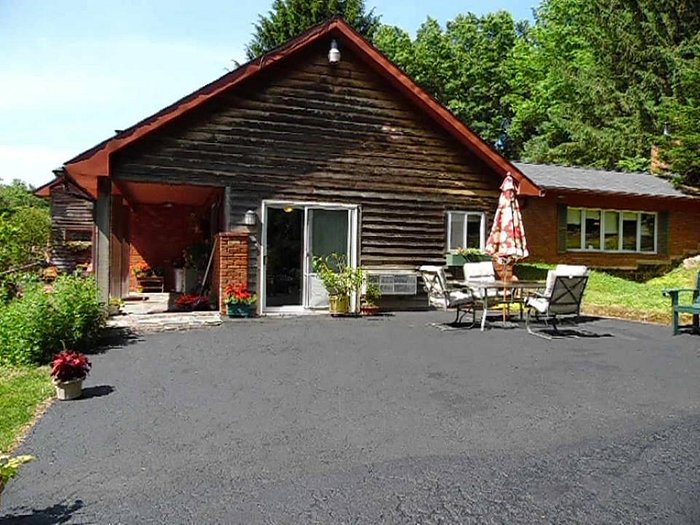 9. Paradise Found Wedding and Event Center
Paradise Found Wedding and Event Center is a great wedding venue near Ashland/Mansfield, Ohio due to its timeless elegance and luxurious accommodations. With a magnificent French farmhouse-style barn, a fully renovated Italianate home, and acres of beautiful Ohio countryside, this venue offers a stunning backdrop for unforgettable memories.
The barn is spread across 7,400 square feet and features five rooms with modern amenities such as LED lighting, WiFi, and a "Groom Room", while the Italianate home provides geothermal heating and cooling, a remote control fireplace, and a spa retreat for overnight guests. With a capacity to host up to 180 guests, Paradise Found is the perfect place to celebrate your special day.
10. Secluded Cabins Event Center
Secluded Cabins Event Center is the perfect wedding venue near Ashland/Mansfield, Ohio. Located on a 170-acre cattle farm in the peaceful and picturesque hills of Holmes County and the Mohican Forest, it provides a stunning backdrop for your ceremony and other important life events.
The Event Center has both indoor and outdoor event spaces, a full-size kitchen, a cozy get-ready room with a balcony, and two large porch areas. The koi pond and water feature are perfect for a romantic outdoor ceremony, and you can even set up tents in the yard. With its beautiful setting and versatile event spaces, Secluded Cabins Event Center is an ideal venue for your special day.
11. Lucas Mill Event Center
Lucas Mill Event Center is a great wedding venue near Ashland/Mansfield, OH for couples who want an intimate and elegant celebration. With newly-restored event spaces, the venue can accommodate up to 130 guests and provide all the necessary chairs, tables, and other amenities to make the event perfect.
Lucas Mill Event Center also works closely with vendors in the Ashland/Mansfield area to ensure a stress-free event, whether it be a wedding, birthday, or baby shower. Couples can also appreciate the unique architectural style of the venue, with pine-lined entry drives, leafy sycamore trees, and a picturesque stream that creates a serene and romantic atmosphere.
On top of all this, Lucas Mill Event Center offers competitive pricing for their services, with a refundable $350 deposit required to reserve a date and additional charges that may apply for individual requests. All of these features make Lucas Mill Event Center the perfect venue for an intimate and beautiful wedding near Ashland/Mansfield, OH.
12. Park Hospitality & Conference Center
Park Hospitality & Conference Center near Ashland/Mansfield, Ohio is the perfect destination for your dream wedding. Not only does the venue offer stunning facilities, but it also has the capability to host up to 600 guests.
With both intimate and grand event spaces available, you'll be sure to find a space that is suitable for any size party or celebration. Furthermore, the conference center includes the use of a prep kitchen and tables & chairs, allowing you to completely customize your wedding experience. You can bring in a caterer of your choice and enjoy a delicious meal in a setting that is breathtakingly beautiful and unique.
Park Hospitality & Conference Center is an ideal wedding venue that is conveniently located, making it easily accessible to family and friends. With a top-notch facility, exceptional service, and the ability to customize your occasion, Park Hospitality & Conference Center is the perfect place to make your wedding day memorable.
What makes these venues unique and affordable?
What makes these venues unique and affordable? These venues offer a wide range of packages, special deals, and discounts to suit any budget. Many of them also offer flexibility that allows couples to customize their venue to fit their individual needs without sacrificing style or elegance.
Additionally, some of these venues offer discounts for off-peak dates and times, promotions, and any unbooked dates they are trying to fill. Furthermore, they offer competitive rates that are more affordable than other wedding venues in the area.
Finally, they provide a beautiful and scenic location that is sure to make all guests feel special and create memories that will last a lifetime.
What to consider when choosing a wedding venue in Mansfield, Ohio
| | |
| --- | --- |
| Location | Consider the vibe and atmosphere you want for your wedding, proximity to lodging options and attractions for guests. |
| Space | Evaluate the size and versatility of the venue's space, whether it can be divided into multiple rooms, and additional rooms available for rent. |
| Price | Take into account the base price and hidden fees, inquire about off-peak pricing and promotions. |
| Amenities | Check for dance floor, dressing room/bridal suite, event coordinator, event rentals, event staff, lighting/sound equipment, pet-friendly policy, set-up, and clean-up services, wheelchair accessibility, and wifi availability. |
| Views | Consider the breathtaking vistas in the area, from rolling hills to urban industrial vibes. |
| Parking | Assess the venue's parking availability, any restrictions, or associated fees, and consider nearby public transportation options. |
| Accessibility | Evaluate ease of access via roads, highways, airports, and train stations for out-of-town guests. |
| Security | Inquire about on-site security personnel, lighting, and surveillance systems for guest safety. |
| Lighting | Choose a venue with appropriate lighting options based on the event type and location. |
| Sound System | Consider whether the venue provides its sound system or requires outside rental and any sound-related restrictions. |
| Food & Beverages | Verify food and beverage options, alcohol policies, general liability insurance requirements, outside caterer allowance, and event planning services if included with the rental. |
| Vendors | Check if the venue has preferred vendors for photography, catering, music, floristry, and wedding planning services. |
| Photo Opportunities | Assess the scenic views and architectural features of the venue for photo opportunities. |
| Customer Service | Research the venue's reputation and staff's friendliness and professionalism through reviews and references from previous clients. |
| Reviews | Read reviews to gain insight into the venue's quality, services, pricing, packages, and overall experience shared by other couples. |
| Event Planning | Check if the venue includes event planning services with the rental. |
We Wish You The Best of Luck!
We hope this guide has helped you find the best wedding venues in Mansfield, OH that are unique and affordable. The Brickyard on Main is the perfect venue for your perfect wedding. Contact us today to book your wedding.
This is your chance to…
Find The Perfect Wedding Venue That Will Make Your Life Easy And your Wedding Day More Special Than Ever With Support and Guidance From The Moment You Book Your Wedding 
Let us take you by the hand and make it easy for you to…
Here's Everything You'll Get 
Create Unforgettable Memories Celebrating Your Love With Your Soon To Be Spouse, Friends, And Family
Celebrate Their Love With A Beautiful Backdrop For Photos To Look Back On
The Perfect Wedding Venue That Will Make Your Life Easy And your Wedding Day More Special Than Ever
A Beautiful And Effortless Wedding
An Amazing Experience Getting Married Without Feeling Overwhelmed
You'll Get To Enjoy Your Most Special Day With All Of Your Loved Guests in a Beautiful Setting
Assurance That You Will Have A Beautiful, Successful, And Stress-Free Wedding
Guidance and Expert Help To Ensure That Your Wedding Will Be Exactly The Way You Envisioned It
… and Much, MUCH More!
Claim Your Wedding Date at The Brickyard on Main Now
Total Value: Priceless
YES! I Want A Beautiful Urban Industrial Venue With Top-Notch Service For My Wedding!
Get In Touch With The "Brickyard on Main" To Learn More, Schedule a Tour, or Book Your Wedding
Fill out our contact form now and you'll be on your way to accessing the newest urban venues in Central Ohio, which combines concierge service with historic elegance… and the assurance that you will have a beautiful, successful, and stress-free wedding from the moment you book your wedding!
We wish you all the luck in finding your perfect wedding venue! Don't hesitate to reach out to us with any questions at [email protected].
READY TO LEARN MORE?